Steps to prepare for a perfect job interview | Interview preparation tips & tricks
Jan 25, 2023
Everyone's favourite part of the job hunt: preparing for the interview. It is everyone's favourite, right?

Okay, maybe no one is jumping for joy at the thought of interview preparation. If you're already at the interview stage, your odds of landing the role are pretty good. Think about it from the company's perspective: why take precious time out of their busy day interviewing you if they didn't think you could do the role? You're already most of the way there.

As someone who has recruited thousands of candidates, the number one thing that lets people down in job interviews is that they didn't prepare correctly.




I get it, it can feel tedious and disingenuous to spend time trying to figure out answers to questions you haven't been asked yet. That's why I'm going to streamline the process by giving you exactly what you should do to prepare for your next interview.


Research the company you're interviewing with 🕵️‍♀️
This step seems like an obvious one, but most people aren't doing it effectively. Researching the company doesn't mean pulling up what anyone with Google can find. If you do, you'll be repeating the same information as every other candidate - and how can you stand out if you do that?

What you want to research is the company vision. What is their mission? What outlook does the company have in their respective field? Who are their competitors? What challenges is the company facing and what are its strengths? You need to dive deeper than the "About Us" page on their website.

Where can you find this interview answer gold? Look up their annual report, this will give you key insight into their goals, their challenges and how they are looking to improve. You can also listen to earnings calls, which will give you a look at their financial reports. These legally have to be shared with shareholders and are available to the public - so use these to your advantage.

See what recent press and news have been released on the company to see if they have any recent big wins you could touch on in your interview. Stalk their social media channels and see what they have been talking about and what their tone is. Is it serious or is it playful? Let this guide your own tone during your interview. Don't forget to stalk their LinkedIn page, too!

Often time members of a company's leadership team will give interviews or join podcasts. Make sure to give these a watch/listen as they'll highlight the vision and projections of the business. As you're listening, think about how you can contribute to this vision. Answers that tap into how you can connect with this are job-winners.
Make connections with your future coworkers at your dream company 🤝
Use the company's LinkedIn profile to reach out to its current employees. Making a connection with your would-be colleagues not only gives you some brownie points in your interview, but lets you see how the company could be a fit for you (it goes both ways, right?).

Send them a message on LinkedIn letting them know you have an interview coming up with their company and would love to hop on a 15-20 minute call for a virtual coffee date and chat about your potential workplace.

Need some questions to ask them? Use some of these and unlock a company culture treasure trove:
💬 "What do you love about working in Company X?"
💬 "What would you improve about Company X?"
💬 "What's something Company X could be doing that they aren't doing now?"
💬 "What sets Company X apart from its competitors?"

Now when you hit your interview, you can let them know you spoke with Sarah from the Product Design team and she walked you through what it is like to work at Company X and explain how what she said aligns with you and your strengths.
Use Glassdoor to nail salary negotiation and predict interview questions 🤑
If you've never heard of Glassdoor, let me get you out from under that rock you've been under. Glassdoor is like the TripAdvisor of workplaces. On the website, you'll find reviews on the leadership team, salary ranges, benefits, and more insider information.

On this gold mine of a website, previous candidates leave what questions they were asked during their interviews. They also give what their experience was like at the interview. This is perfect for interview preparation. No question will come at you as a curve ball - you've already got a preview laid out for you on Glassdoor. You also can gauge the company culture and what it's like to work there - amazing for spotting red flags before you jump in.
Research the people interviewing you 🔍
If you know who will be interviewing you, this is a huge leg up to connect with the person deciding your fate. Check their LinkedIn and study their career story. Plug their name into Google and see what comes up. Are there any media features? Do they have their own website? Have they got any public social media?

I want to preface this by saying, you are NOT a stalker. You're looking for a few key things that you could have in common with your interviewer. Perhaps they have some convictions you align with, and you could discuss these during your conversation.

Remember, it is a human that is interviewing you. Research shows that humans have a "like me" bias, which means they prefer someone who is similar to them. This isn't so great for diversity, but if you can find any way you are similar, leverage this how you can.
Prepare any interview practicalities in advance 👔
A prepared candidate is a cool, calm, and collected candidate. Cover any smaller details that can easily be missed in the preparation process. This means things like what you will wear or what you may need to bring with you.

If you're not sure what to wear, think back to when you were looking up the company's social media channels. What did you see employees wearing? Take what they were wearing and jazz it up slightly. For example, if people working at the company wear jeans and a t-shirt, wear jeans and a t-shirt to your interview but add a blazer and some heels. You want a slightly elevated version of what other employees wear that feels empowering for you and isn't too over the top.

Brainstorm everything you may need to bring with you. If you want to bring in a copy of your resume, make sure to print this out in advance. Do you want to bring a water bottle? Will you need cash for parking? Covering small details like this in advance makes it easier for you to relax and get into the interview zone on your way in.
Prepare career stories instead of predicting interview questions 🤔
You should prepare for behavioural questions, which are your "tell me about a time when…" questions. What you shouldn't do is try to predict the thousands of questions they may ask you and attempt to memorise an answer for all of them. Doing this will only stress you out and make you seem robotic in your interview. We're thinking smarter, not harder.

In order to do this, you need to prepare career stories. These stories should be focused on the qualities the company is looking for (hint: they're in the job description they listed). Think about times when you lived these qualities and use these stories for your interview answers.

Stories are much easier to remember to apply to a wide range of questions, especially if some of the specific questions you try to memorise answers for aren't even asked. You'll also come across a lot more natural when telling your career stories instead of regurgitating an answer you formulated long before the interview began.
Remember that no one you encounter at your interview is unimportant 🖤
From the intern all the way up to the senior director, the way you treat every person is crucial. It seems obvious, but you would be surprised how often a comment from the receptionist or an intern would be the make-or-break point that means the candidate loses the role.

Treat every person with the highest respect possible, these could be your future coworkers too so making a good first impression on everyone, not just the person interviewing you, will start you off on a strong foot.

By now you should be feeling prepped and ready for your interview. If you would like to go further and learn my interview success framework that converts interviews into dream job offers, you need to check out my free interview training, High-Vibe Interviews. I'll show you interview secrets from an ex-Fortune 500 / Tech / Corporate Recruiter (that's me) that have helped thousands of clients worldwide land their dream job.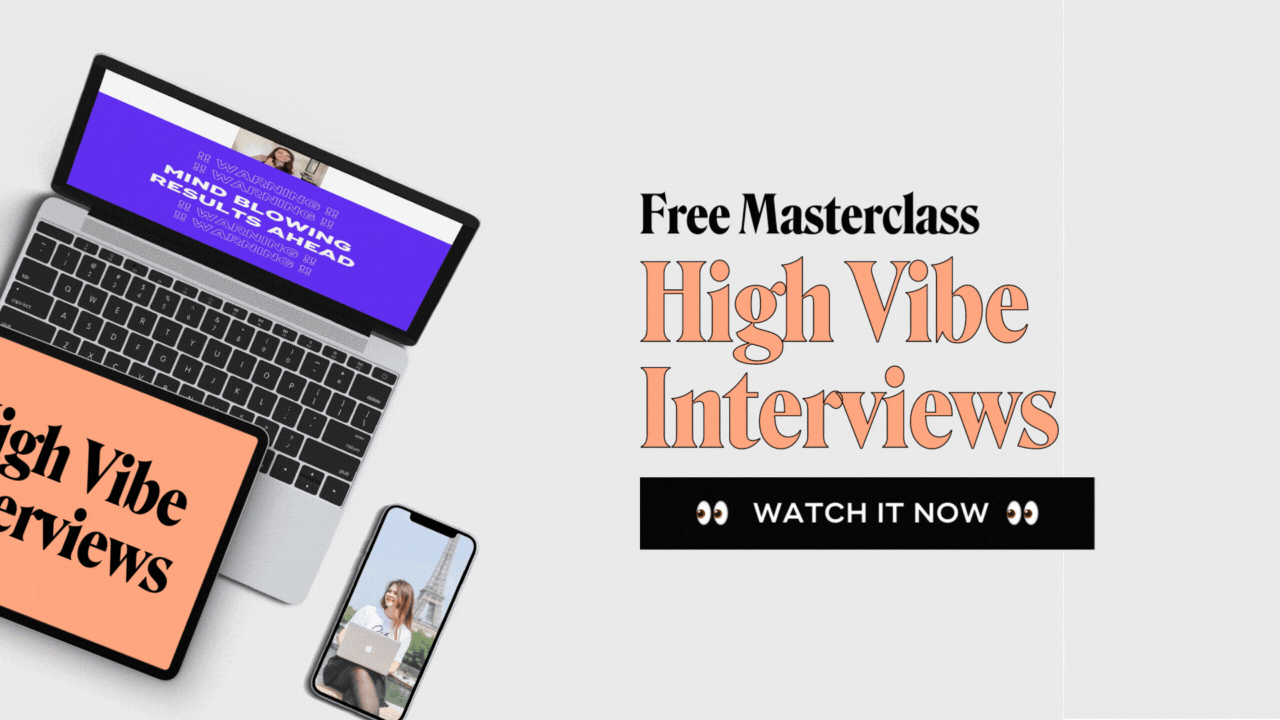 Best of luck with your interview, badass! Don't forget to hit me up on Instagram to let me know how it goes - I adore celebrating your wins with you 🥳

Stay Badass,
Rosie x