How to Quantify Your Experience in the Experience Section of Your Resume
Jun 22, 2023
I like to think many ingredients go into baking the perfect, interview-generating resume… However, just like chocolate in a chocolate cake, there is one key ingredient that truly makes it. When we're talking resumes, this vital ingredient is your experience section. Specifically, knowing how to quantify your experiences/achievements in a role.
If you're already thinking "But Rosie - I work in policy writing - there's no way I can quantify my experience." Let me assure you, we can quantify literally any achievement. I'm going to show you exactly how in this article! We'll discuss how to transform your work experience into impressive and quantifiable accomplishments that make your resume stand out in today's competitive job market. Let's freaking go.
The Importance of a Stand-Out Resume
In the current job market, having a standout resume is crucial. It's your first opportunity to grab the attention of recruiters and hiring managers. By being here and seeking to enhance your resume, you've already taken the first step towards ensuring your resume looks different, sounds different, and leaves a lasting impression. Recruiters and hiring managers want to be wowed by your accomplishments and see the value you can bring to their organisation. That's why it's vital to get your math geek on and quantify your achievements, backing them up with cold, hard data.
Why Quantifying Accomplishments Matters
Quantifying your accomplishments on your resume is a powerful way to make an impact. It's rooted in the philosophy of effective persuasion - logos, as taught by the Greek philosopher Aristotle. Logos emphasises the use of evidence, facts, and data to persuade. Numerous studies have shown that numbers and tangible results are not only impressive but also more believable. Companies are interested in high achievers who go above and beyond their job responsibilities. By quantifying your accomplishments, you demonstrate that you're one of those shiny ✨high achievers ✨.
Turning Duties into Accomplishments
Most resumes and resume templates out there tend to read like generic job descriptions. They fail to showcase your unique value and accomplishments. However, with the right approach, you can turn your day-to-day activities into highlights that differentiate you from other candidates. To achieve this, we'll transform your experience section into a series of accomplishment statements. By doing so, you'll be able to showcase your transferable skills and truly stand out as a high-value hire (a.k.a someone worth the big $$$).
Step 1: Understanding the Difference Between Role Duties and Accomplishments on your resume
To begin, it's essential to understand the difference between a duty or responsibility and an accomplishment statement. Duties are simply tasks that were part of your job description, whereas accomplishments reflect the unique and exceptional results you achieved. Let's consider a few examples. "Planned events" would be considered a job duty, whereas "raised one hundred thousand dollars by selling out tickets to a 200-person charity event" is a quantifiable accomplishment. The latter statement demonstrates your ability to exceed expectations and make a significant impact.
Step 2: Brainstorming Resume Accomplishments
Now that you understand the difference between duties and accomplishments, it's time to brainstorm your accomplishments for each role. Ask yourself questions such as: What did I do that went above and beyond my normal job duties? How did I stand out among my peers? Did I receive recognition for a job well done? What projects did I work on that required significant effort? By answering these questions, you'll uncover key accomplishments to highlight on your resume. Here are a few more Q's to ask yourself to get the ball rolling:
Did I win any awards or accolades?

What new processes did I implement to improve efficiency?

What problems did I solve or challenges did I overcome?

Did I consistently meet quotas, deadlines, or targets?

Did my work contribute to saving the company money or time?
Take the time to reflect on each role and note down specific instances where you made a notable impact. Don't worry about incorporating numbers at this stage; focus on capturing the concepts and highlights.
Step 3: Adding Numbers for Impact (Quantifying Your Resume Experience Section)
To make your accomplishments more impactful, it's important to include numbers wherever possible. Numbers provide tangible evidence of your achievements and create a stronger impression - we like to WOW the hiring managers here at Badass Careers.
While not *every* accomplishment can be quantified, many can benefit from the inclusion of relevant metrics. Review your list of accomplishments and try to add numbers and facts wherever possible. Consider the following:
How many people were impacted by your work?

Did you exceed goals, and if so, by what percentage?

How much money did you save or manage?

Did your work result in happier customers or employees?

How many employees went through your training programs?

Did you achieve significant website traffic or social media growth?

How many hours did you spend on a project? You can use this and your salary to ascertain to project budget you managed!
Quantifying your work experience on a resume is a powerful way to make an impact and differentiate yourself from other job applicants. By highlighting your measurable accomplishments and incorporating numbers and metrics, you can showcase your value and attract the attention of recruiters and hiring managers anywhere.
Remember, it's not enough to simply list your job duties. Instead, focus on transforming those duties into concrete accomplishments that demonstrate your ability to go above and beyond expectations. Craft accomplishment statements using the framework of action, result, and impact to effectively (and subtly!) shout about your achievements.
Quantifying your work experience not only enhances the credibility of your resume but also helps potential employers understand the value you can bring to their organisation. Whether you exceeded goals, saved money, improved efficiency, or received recognition, quantifying your accomplishments will set you apart as a high achiever and that's what will ultimately land you an interview.
So, next time you're pulling together a job application, take the time to carefully analyse your work experience, identify your measurable achievements, and incorporate them into your resume. By doing so, you'll increase your chances of landing that dream job and positioning yourself as a top candidate in the competitive job market. You got this, Badass!
Hungry for more juicy resume tips & tricks (oh and cover letter & LinkedIn tips)?! I've got you covered from every personal branding angle in my free masterclass, Dream Job Magnet. Just tap on the image below to save your spot!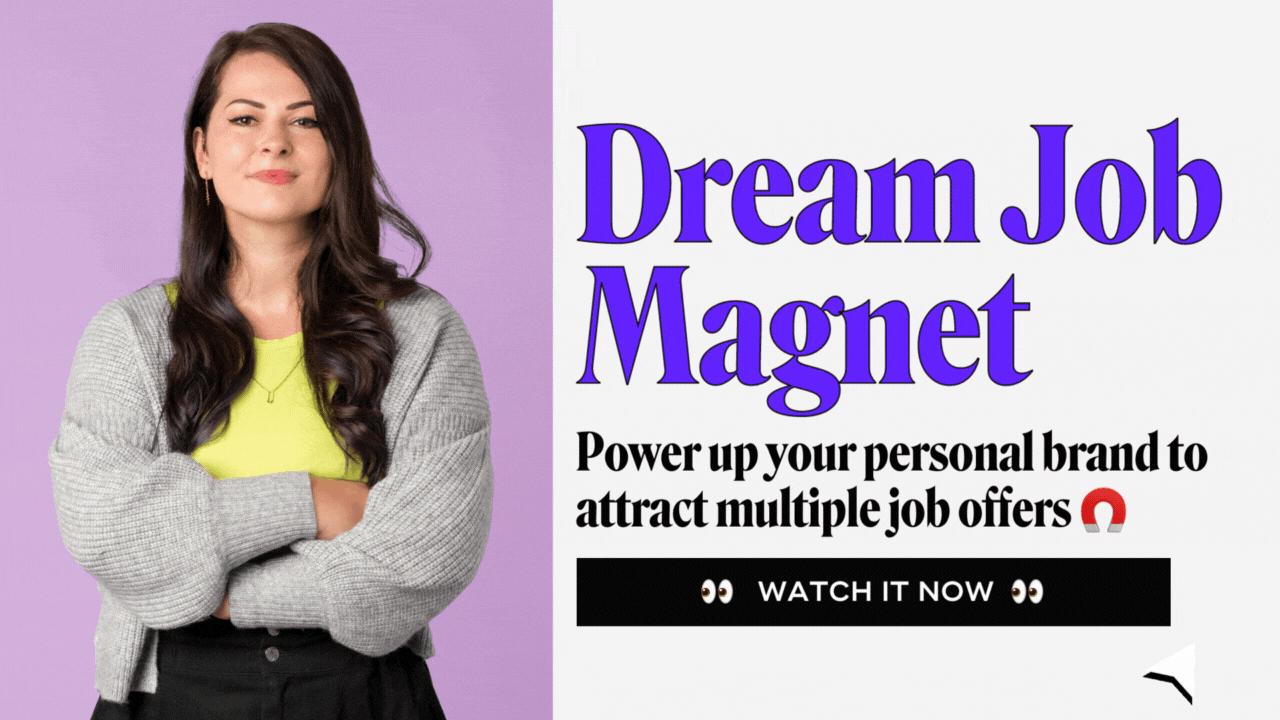 Stay Badass,
Rosie x